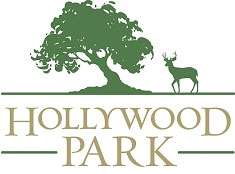 A little over 50 years ago, the Town of Hollywood Park became official in a homeowner's garage.  The neighborhood, connected to the old San Pedro Street by a gravel road, was growing in 1955.  Residents were concerned about losing the neighborhood's autonomy to San Antonio and so a meeting was held to discuss the possibility of incorporation.  It was decided that homeowners would vote to make the decision.  One October Saturday in 1955, residents met in the garage of the Weinholtz home and voted on paper ballots.  History was made in the garage that day and the Town of Hollywood Park was officially incorporated on December 7, 1955.
Back then the town was small but growing and seemed to be out in the middle of nowhere.  The closest grocery store was the Handy Andy on San Pedro.  The closest place to take the kids to dinner was the Jim's Frontier Drive-In restaurant on San Pedro and Basse.
Hollywood Park of yesteryear was a place where young-minded individuals selected home-sites on which to build homes they intended to live in for the rest of their lives; homes built to last for generations.  Among the community's leaders of today are the children and grandchildren of those early residents.  The city's population is a cross-index of young professionals, lawyers, teachers, doctors and businesspeople.
Hollywood Park is not just another subdivision made of brick and mortar; it's a community with a unique history and a vibrant future.  It is a great, peaceful and friendly place to live.  Families working together have created a true sense of community and this spirit still thrives today.
Most of the property in Hollywood Park remains private residential property, with large lots, and an abundance of trees.  We are a community shaped by the inflections of its early days along with a spirit of cooperation and pride that continues to keep Hollywood Park known as one of the best places to live.
We are a beautiful community in Bexar County located within the far north central San Antonio metro area.
Presently the Town enjoys a diverse population of approximately 3,272 residents.
History of Hollywood Park
Mr. Barnes began developing Hollywood Park years ago with the construction of a house at 204 Sequoia for Gilbert and Grace Sargent in 1951. Hollywood Park was incorporated on December 7, 1955 and today we have a population of approximately 3,272 residents. Up to about 1962, the city offices operated out of various resident's homes. In 1962 the area now designated as the Fire Department, was constructed and city offices moved into it. This was accomplished with donations of funds and labor from the Homeowners' Association, the Woman's Club and the Fire Dept. Auxiliary.
In 1975 Administration and Police Departments moved into an abandoned building which had served as the office of the Hollywood Park Lumber Yard at 2 Mecca Drive. This was to serve as City Hall for five years. In 1985, Mayor Ruby Weinholt asked the architect firm of Johnson-Dempsey and Associates to develop plans for a new, enlarged Municipal complex for Hollywood Park. These plans were developed but the project died when someone "guesstimated" that the building would cost about $800,000. The project stayed dormant until May 1987 when Mayor Patricia Flynn appointed a committee consisting of Elmer Koenig, Darryl Mueller, Bob Parke, Helen Rackley, Doug Walton, Ruby Weinholt and Bala Srinivas to recommend plans for a city complex together with financing options. This committee made its final recommendations in November 1987 and the architect firm of Fisher/Heck Inc. was commissioned to draw up a master plan and schematics. Public hearings were held in February 1988 to discuss a bond election for the issuance of $430,000. A twenty year General Obligation bond was authorized by Council in March of 1988. A citizens Bond Committee consisting of Gen. Evan Rosencrans, Dixon Brown, Bernie Jensen, Cliff Munson, Helen Rackley and Doug Walton did a fine job of "selling" the bond issue.
On May 7, 1988 the bond issue passed by a vote of 338 to 290. By June of 1988 all bonds had been sold with 55% being purchased by residents of Hollywood Park. Ground was broken on November 1, 1988 and the new building [current City Hall] was occupied on May 4, 1989.